The North Face Will Pay You to Recycle Your Clothes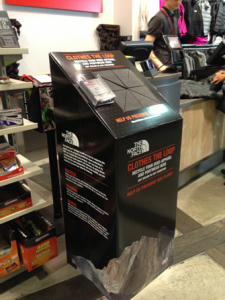 The North Face, the world's largest outdoor clothing company, has announced a new recycling program designed to reduce the amount of clothing and footwear the goes to landfills. The program, called "Clothes the Loop," will be executed in partnership with I:CO (short for I:Collect), a company that collects, sorts and repurposes used shoes and textiles.
The North Face has placed specially marked collection bins in 10 of its retail stories, including in Chicago, New York and San Francisco. In order to maximize the impact of the program, The North Face will accept used apparel and footwear from any brand, regardless of condition. Customers who contribute to the bins will receive a voucher that can be redeemed for $10 off a purchase from one of the company's stores.
"We've always been dedicated to building products that last, backed by a lifetime warranty, allowing people to depend on our products and minimize the need to buy more," said Adam Mott, The North Face Corporate Sustainability Manager.
"Our partnership with I:CO takes our commitment to reducing waste even further by providing our customers with an alternative end for products they no longer want or need, keeping these items from landfills and protecting our natural playgrounds," he added.
In 2010, roughly 22 billion pounds of post-consumer textile waste ended up in landfills, according to the U.S. Environmental Protection Agency. The production of a single T-shirt consumes between 10,000 and 30,000 liters of water and pumps an additional 3.6 kg of CO2 into the atmosphere. According to I:CO, a recycling process reduces these quantities by between 90 and 95 percent.
I:CO has partnered with several mainstream clothing manufacturers and retailers, including PUMA, H&M, Foot Locker, adidas, Carhartt and Volcom. In December, H&M became the first clothing retailer to launch a worldwide clothing collection initiative.
"Our sustainability efforts are rooted in a dedication to social and environmental responsibility," said Karl-Johan Persson, CEO of H&M. "We want to do good for the environment, which is why we are now offering our customers a convenient solution: to be able to leave their worn out or defective garments with H&M."
Of the billions of tons of textiles that are discarded each year, as much as 95 percent can be repurposed (re-worn, reused or recycled), according to I:CO. I:CO's ambitious goal is to create the infrastructure whereby 100 percent of all clothes and shoes can be recycled by 2020.
"I:CO's goal is to create an endless loop of material reprocessing by giving used clothing and shoes a new life," said Stephan Wiegand, CEO of I:CO. "This helps reduce waste and save precious natural resources."
Items collected at The North Face's Clothes the Loop bins will be sent to an I:CO recycling center where they will be designated to be either resold or recycled into raw materials like insulation, carpet padding and stuffing for toys. Through their sorting and grading infrastructure, I:CO produces less than 2% residual waste.
"By making it easy and rewarding to bring in these unwanted items, The North Face Clothes the Loop Program empowers consumers to get involved and make a difference," added Wiegand. "We are pleased to partner with The North Face on this important program and on furthering their commitment to protect our outdoor environment."
The North Face plans to donate all proceeds from the Clothes the Loop pilot program to the Conservation Alliance, a nonprofit that funds community-based campaigns to protect outdoor areas.