Verizon Links Up Social Responsibility and Sustainability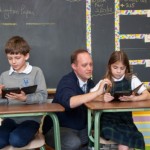 Verizon announced that it will cut its CO2 intensity in half by 2020, as part of the company's broad sustainability efforts. Besides reducing emissions, the company's sustainability and social responsibility efforts also include developing marketplace solutions to address social issues like health care and energy, and "aligning the company's philanthropic work with these issues to maximize community benefits," it said in a statement.
"This is the era of big data," said Verizon Chairman and CEO Lowell McAdam. "Our business continues to grow at a rapid pace, but we're committed to innovating our way to growing responsibly by becoming more energy efficient, even as our business expands." McAdam also took part in a "CEO Sit-Down" with Bloomberg TV correspondent Alix Steel on Tuesday at the fifth annual Bloomberg New Energy Finance Summit.
"Energy management is operating without a central nervous system," McAdam said at the event in New York. "Our technology is providing that central nervous system so that you can have that 700 percent growth in data traffic."
Carbon intensity, that is, the amount of energy needed to move data across Verizon's network, is a measurement of energy efficiency. It is improved by reducing the absolute amount of energy and by moving more data with the same unit of energy. Verizon is using its 2009 carbon intensity level as the benchmark for the company's 50 percent reduction by 2020. More details can be found on the company's first combined annual and corporate responsibility report.
Verizon said that creating healthy, sustainable communities is the surest path to creating a healthy and sustainable business. McAdam said that the intersection between business and social interests is the most exciting growth opportunity.
Two of the social areas the company is focusing on are health care and education. In order to improve access to health care, Verizon is using 4G LTE technology to overcome barriers. The company is working with health insurance provider WellPoint to change the model for delivering patient services via secure videoconferencing. WellPoint subscribers will soon be able to use their smartphones and tablets to consult with nurse managers for help in managing chronic conditions. Besides, the University of Virginia launched its first telehealth nursing program to train medical personnel at the school's Wise County campus on the use of emerging 'telehealth technologies' to improve health care access and services in rural regions of the state.
4G LTE mobile networks can also make an impact in education, enabling the adaptation of various technologies in the education setting. At St. Phillips Academy in Newark, N.J., for example, a VGo telepresence robot helps solve several classroom challenges including helping a homebound student undergoing medical treatments stay involved with the class. Moreover, Verizon's Thinkfinity.org website will feature an integrated solution to bring education to smartphones and tablets.
Image credit: Verizon Foundation