Veteran AIDS Activist Kenneth Cole Uses Fashion Week to Raise Funds and Awareness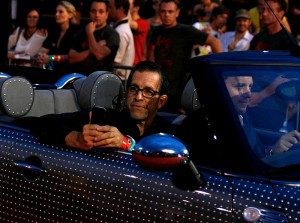 Kenneth Cole on the red carpet of Life Ball, Europe's biggest charity event supporting people with HIV/AIDS, in 2010.
Fashion designer Kenneth Cole will use the publicity generated by Fashion Week to raise funds and awareness about AIDS research. To raise money, Cole will donate proceeds from a pair of new products to the American Foundation for AIDS Research, known by its acronym amfAR.
To help craft the first product, a limited edition handbag that will premiere on Feb. 7 at Cole's eponymous fashion show, the designer turned to former Sex and the City star Sarah Jessica Parker.
"It's been an amazing experience to collaborate with Kenneth Cole on the design of a handbag supporting amfAR," said Parker.
The bag, which includes a condom inside and features the inscription "We're All Potential Carriers," will retail for $1,000. Twenty bags will be sold at the show with 100 percent of proceeds donated to amfAR. The bags will also be auctioned off at the amfAR gala.
"Kenneth has used his platform as a fashion designer for nearly 30 years to advocate for amfAR's mission to end AIDS," added Parker. "I'm thrilled this bag will help raise money and awareness for the 30 million people living with HIV and AIDS."
There are in fact an estimated 34 million people, of whom 3.4 million are children, living with HIV/AIDS worldwide, according to statistics published by UNAIDS, WHO and UNICEF in November 2011. In 2010, new cases of HIV/AIDS infections amounted to 2.7 million people and 390,000 children. While the overall growth of the epidemic has stabilized in recent years, an estimated 16.6 million children were orphaned due to deaths from HIV/AIDS in 2009 alone.
Cole has long been at the forefront of the AIDS awareness movement. In 1986, when AIDS was far from fully understood by the public and speaking out about the virus was considered tabboo, Cole launched an ad campaign featuring high-profile models that raised around $3 million worth of donated exposure and press.
"As I returned to Fashion Week it was important for my show to be about something bigger than just fashion," said Cole, who is returning to the runway after a seven year hiatus.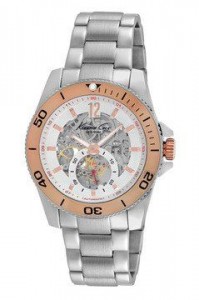 This limited edition watch from Kenneth Cole New York will help raise at least $25,000 for amfAR.
Through his line Kenneth Cole New York, the fashion mogul has also released a limited edition watch to benefit amfAR. The watch was released through Kenneth Cole New York's licensee partner, the Geneva Watch Group, which will donate at least $25,000 from sales of the watches to amfAR.
Cole, who has served as chairman of amfAR since 2005, will donate $1 (up to $30,000) to AIDS research for every @KennethCole Twitter follower that tweets using #KCRUNWWAY during the live stream of his fashion show and throughout Mercedes-Benz Fashion Week, taking place Feb. 6 - 14.
"While we've made tremendous strides towards finding a cure for AIDS, there is still much work to be done, and so it's important to keep reminding people that we're all potential carriers," he added.
Cole also recently worked as executive producer on the HBO documentary film "The Battle of amfAR," which premiered on Jan. 18 at the Sundance Film Festival.
Image credit: Manfred Werner, Wikimedia Commons